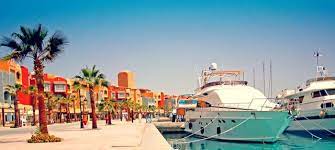 Coordinates:
33 o 50/ 34.40//E (Long.) 27o13/ 26.63// N (Lat.)
Time Zone:
GMT +2
Location:
Hurghada Tourist Marina is located next to the fishermen village in the Al-Sakkala region, bordered to the east by the Red Sea, to the north it is bordered by the fishing port and the fish marketplace, to the south of the marina is an empty piece of land and the public beach affiliated to the Hurghada Governorate, and to the west is an asphalt road.
Port Activity:
Receiving local tourist yachts.
Contacts:
| | | |
| --- | --- | --- |
| Ownership | : | Hurghada Marina Tourist Company. |
| Phone NO. | : | +2 (065) 34 44 920 |
| Fax No. | : | +2 (056) 34 45 120 |
| Email | : | secretary@hurghada-marina.com |
| Administration | : | |
| Port Master | : | Sharif Naji Sami. |
| Phone NO. | : | +2 (056) 34 44 920 |
| Fax No. | : | +2 (056) 34 44 920 |
| Email | : | gm@hurghada-marina.com |