International ports of the ISPS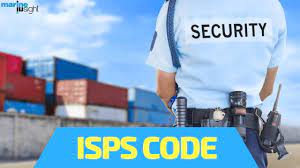 IAPH Member Ports Compliant with the ISPS Code(As of Dec 24, 2004)
The total number of Port Facilities reported by the following 233 portsin 51 countries is 1,948 whose Port Facility Security Plans have allbeen approved.
Country
Ports
Australia
Devonport
Fremantle
Townsville
Sydney
Port Botany
Gladstone
Alma
Bahamas
Clifton Point
Freeport
Nassau
Abaco
Belgium
Antwerp
Brazil
Suape
Cameroon
Douala
Canada
Montreal
Nanaimo
Halifax
Cape Verde
Praia
Palmeira
Grande
China
Kaohsiung
Shanghai
Keelug
Hong Kong
Hualien
Taichung
Cote d'Ivoire
San Pedro
Croatia
Rijeka
Cyprus
Limassol
Larnaca
Vassiliko
Denmark
Aarhus
Aalborg
Djibouti
Djibouti
Estonia
Tallinn
Fiji
Suva
Lautoka
Levuka
Malau
Finland
Helsinki
France
Nantes/Saint-Nazaire
Marseille
Marseille Fos
Bordeaux
Le Havre
Rouen
Germany
Hamburg
Iceland
Reykjavik
India
Cochin
Mormugao
Kolkata
Tuticorin
Jawaharlal Nehru
Mumbai
Chennai
New Mangalore
Paradip
Iran
Imam Khomeini
Shaid Rajaie(Bandar Abbus)
Anzali
Bushehr
Noshahr
Chabahar
AmirAbad
Bahonar
Lengeh
Khoramshahr
Abadan
Sirri Island
 
Lavan Island
Neka
Kharg Island
Asalooyeh(Pars-e Jonoobi)
 
Qeshm Kish FreeZones
Hormozgan
Mahshahr
 
Ireland
Cork
Dublin
Shannon Foynes
Japan
Nagoya
Yokkaichi
Kobe
Naha
Mizushima
Okayama
Uno
Tomakomai
Ishikari Bay New Port
Shimizu
Tagonoura
Omaezaki
Kenya
Mombasa
Korea
Busan
Gwangyang
Inchon
Kuwait
Mina Al-Ahmadi
Mina Abdulla
Mina Shuaiba
Latvia
Riga
Lithuania
Klaipeda
Malaysia
Klang
Sabah
Penang
Kuantan
Bintulu
Johor
Tanjung Pelepas
Tanjung Belengkor
Mauritius
Port Louis
Myanmar
Yangon
Sittwe
Kyaukpyu
Thandwe
Pathein
Mawlamyine
Dawei
Myeik
Kawthaung
Namibia
Walvis Bay
Luderitz
Netherlands
Amsterdam
Rotterdam
Beverwijk
Velsen
Zaanstad
Flushing
Terneuzen
NewZealand
Napier
Taranaki
Auckland
Oman
Port Sultan Qaboos
Pakistan
Karachi
Peru
Paita
Salaverry
Chimbote
Supe
Huacho
Callao
General San Martin
Arica
Philippins
Manila
San Fernando L Union/Sual
Limay
Pulupandan
Ozamiz
Iligan
Cagayan de Oro
Davao
General Santos
Batangas
Calapan
Legaspi
Puerto Princesa
Illoilo
Dumaguete
Tagbilaran
Tacloban
Zamboanga
Surigao
Nasipit
Puerto Rico
San Juan
Romania
Constantza
Midia
Mangalia
Singapore
Singapore
Jurong
South Africa
Richard
Durban
East London
Port Elizabeth
Mossel Bay
Cape Town
Saldanha
Spain
Vilagarcia deArousa
Aviles
Algeciras
Barcelona
Bilbao
Gijon
Huelva
Las Palmas
Santander
Sevilla
Santa Cruz de Tenerife
Tarragona
Valencia
Sri Lanka
Colombo
Sweden
Stockholm
Nynashamn
Kopellskar
Hammarbylock
GÖteborg
Trinidad Tobago
Point Lisas
Port-of-Spain
Scarborough
UAE
Abu Dhabi
UK
London
Ayr
Barrow
Barry
Cardiff
Fleetwood
Garston
Goole
Grimsby
Hull
Immingham
Ipswich
Kings Lynn
Lowestoft
Newport
Plymouth
Port Talbot
Silloth
Southampton
Swansea
Teignmouth
Troon
USA
Brunswick
San Diego
Savannah
Charleston
Georgetown
Port Royal
Seattle
Tacoma
 
Long Beach
 
 
 
Vietnam
SaigonPort
 IAPH Member Ports whose PFSPs have all been submitted,pending approval(As of Dec 24, 2004)
The total number of Port Facility Security Plans submitted by the following 8 ports in 5 countries is 178.
Country
Ports
Indonesia
Surabaya
Japan
Tokyo
Yokohama
Osaka
Hakata
Norway
Coast Directorate
Senegal
Dakar
USA
Stockton
 IAPH is not responsible for any loss or damage resulting from orassociated with the use of this list, and not liable for any inaccuracies that maybe contained.

 The IAPH member ports quoted above are not directly responsible forprocessing of PFSPs and only rely on information that may have originated fromtheir port facilities.