Introductory seminar at Alexandria Port for those interested in the maritime transport industry on the services provided on Maritime Transport Sector E- portal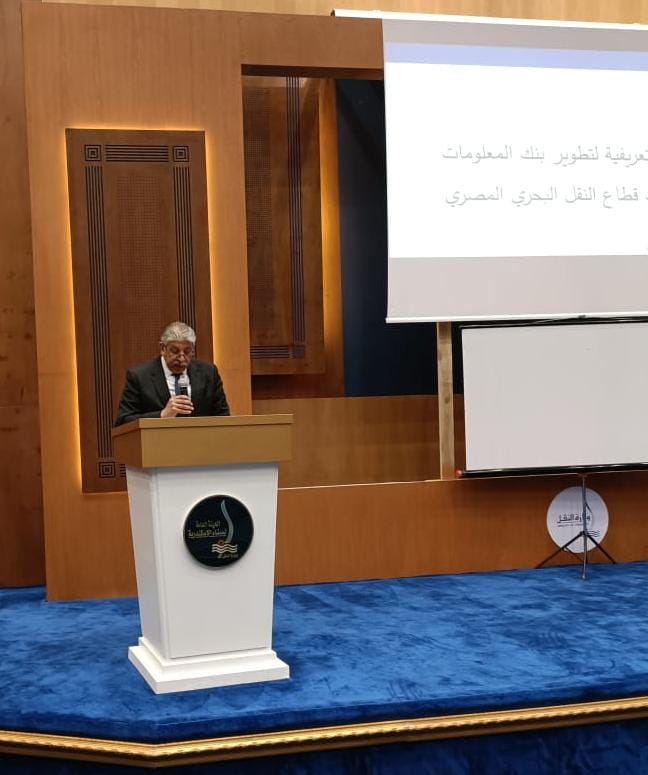 On Monday, 21/02/2022, a conference was held in Alexandria Port, in coordination between the Maritime Transport Sector (MTS) and Alexandria Port Authority, to announce the inauguration of MTS developed Data Bank, and to introduce the services provided on MTS' e-portal to those interested in the Egyptian maritime transport industry. The Conference was attended by Captain/ Tarek Shahin – Head of Alexandria Port Authority, R.Adm/Hussein El Gezeiry – Head of Egyptian Authority for Maritime Safety,R.Adm/Walid Awad-Head of Damietta Port Authority, Dr/Hala ElSheridy- CEO of Integrated Solutions For Ports (ISFP),and representatives of Egyptian Shipping Chambers and Shipping Agencies.
In his speech, R.Adm/ Reda Ismail – President of Maritime Transport Sector said that in light of the directives of the political leadership; to establish a digital Egypt and automate all government sectors in the country to provide better services to citizens, providing public digital services has become an urgent need. Besides, governments are expected to keep pace with this development by  establishing and developing the required database to support taking decisions quickly and safely.
In addition, this database can provide all available information to encourage investments, contribute to the elimination of corruption that may occur in any transactions taking place in any government sector, and save a lot of time also as information can be obtained or referred to at any time easily, flexibly and quickly. In implementation of the directives of the political leadership, His Excellency Eng. Kamel Al-Wazir – Minister of Transport directed to develop the Egyptian MTS Data Bank to restore its role as the first specialized data bank in the Middle East, Africa and the Arab world to provide distinguished information services to decision-makers, those interested in maritime transport industry and researchers through central databases connected to the Egyptian port authorities- which Contributes to improving the performance of Egyptian maritime transport by providing accurate and documented.
In coordination with ISFP, which is one of the national specialized companies in the field of information technology and maritime transport industry, the MTS Data Bank was developed to provide distinguished MTS digital services through the electronic portal, whereby the MTS clients can easily and safely obtain a set of integrated services such as extracting statistical reports, issuing and renewing of licenses for shipping agencies, commercial diving and dumping licenses for dredging works, directing vessels carrying strategic goods, licensing a specialized port, licenses for scaffolding and side decks established on the Egyptian coast, approvals of the concerned authorities (for coastal transport services – wireless devices – permits for individuals).
R.Adm/Reda Ismail added that based on the state's directions to achieve financial inclusion and support digital transformation by providing alternative digital collection channels to customers, coordination with the National Bank has been made to activate the electronic collection service via the Internet within the joint cooperation agreements signed between the National Bank and MTS with the aim of providing new advanced digital payment solutions for MTS customers to complete Payments easily and safely and reduce cash exchanges ,which supports the Central Bank's plans to spread financial inclusion, by making electronic payments directly and easily through the website (MTS services portal) as well as enabling electronic payment through the electronic payment gateway of the National Bank.
President of Maritime Transport Sector: Egypt seeks to enhance multilateral partnerships.
R. Adm/ Reda Ismail, President of Maritime Transport Sector, thanked on behalf of Lieutenant General Kamel Al-Wazir, Galala University and the organizing company of the Red Sea Conference for Maritime Transport and Logistics, for the effort exerted. This conference is considered an important event because it discusses the great developments in the Red Sea Basin region which is considered the most important navigational course for Africa, Asia and Europe. It also discusses the consensus to increase the trade volume in the region and identify the challenges facing us in the region; whether economic or security, and to come up with a unified vision to confront the economic challenges faced by all countries regionally and globally due to Corona pandemic.
In his speech on behalf of Eng. Kamel Al-Wazir – the Minister of Transport, during the opening session of the Red Sea Conference on Maritime Transport and Logistics, Ismail added that the conference coincides with Egypt's direction towards deepening partnerships with Red Sea countries to encourage investments, trade and economic cooperation in the region. Ismail also pointed out that maritime transport represents one of the pillars of economic development, as it transports 90% of the global trade. No doubt that trade and transport are two sides of the same coin.
He stressed that Egypt seeks to strengthen multilateral partnerships and activate regional trade agreements with various countries such as Red Sea countries and African countries, adding, " taking over COMESA chair last November and the entry into force of the African Continental Free Trade Agreement(AFCFTA) in January including the Red Sea, Egypt had to keep pace with these successive developments in the region. Thus, work is being done to increase the trade volume with other African countries, especially Red Sea countries.